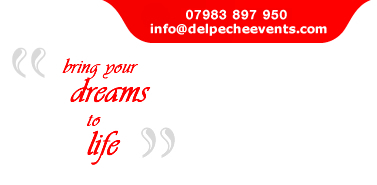 Fees
We offer a preliminary free of charge consultation to learn more about the couple and to find out what style of wedding you would like. We would then provide a bespoke proposal based on this consultation.
The proposal will include details such as suitable venues, suppliers, entertainers and creative concepts.
Fees are based on a percentage basis and are dependant on your exact requirements.
Our promise to you
We will perfect your Event/PR campaign right to the very tiniest detail.
We will work in partnership with you for the entirety of your experience, ensuring that your specific requirements and expectations are met and where possible exceeded.
In the event of a problem we will act in a responsive manner and provide solutions to your satisfaction.
We will be competitively priced and endeavour to meet your objectives within your budgetary constraints
We will provide you with 24 hour access during the entirety of your experience and respond to all queries within 3 hrs max.
We will be passionate about our clients' business, especially its bottom line and make no assumptions.
We will provide only the best people to deliver your event/pr objective and ensure correlation with your vision and values
We will work daily to give you the best possible results
We will be relentless in striving to please YOU, our customer